In Person & Virtual: OFC Town Hall & Baker Beach Family Cookout | 10AM-1PM
09/26/2021 10:00 AM - 01:00 PM PT
Description

This is a hybrid event. It will be available both in person and online via video conference.
Please register in advance to receive phone and video conference access information.
---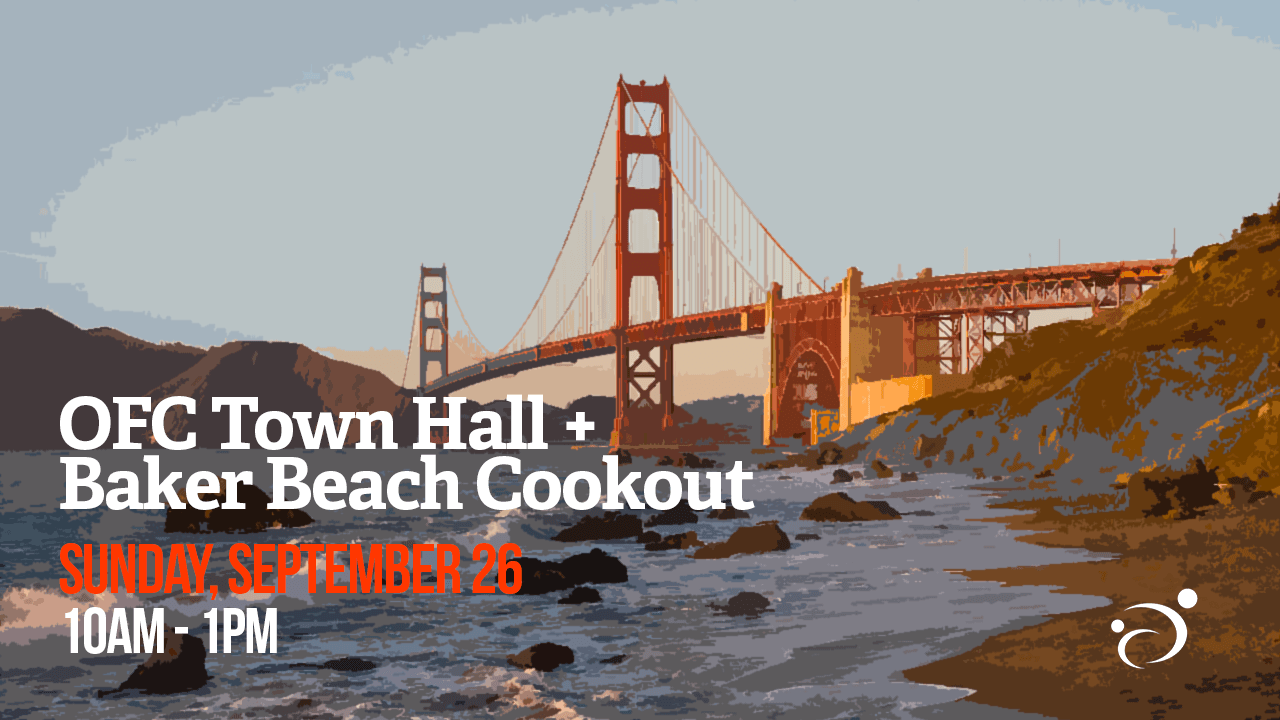 Hi Families! Join OFC staff and community for our 2021 Town Hall: Baker Beach Family Cookout!
This fun and safely-distanced family event will be held on Sunday, September 26th at Baker Beach in San Francisco, CA. We want to hear from you and your family: How are y'all doing, what do you all need from OFC, and what would you like to see from OFC moving forward? Afterwards, please accept our open invitation to the a cookout! To ensure we accommodate everyone's dietary restrictions and provide enough food, please RSVP!
Main dishes will be provided: hamburgers, hot dogs, and veggie burgers. OFC will bring eating and serving utensils, plates, napkins, and water. We encourage you and your family to bring items such as snacks, chairs, blankets, personal umbrella for shade if needed, jackets/clothing layers, etc. for you and your family to be the most comfortable.
We'll also bring preventative & protective gear to distribute should folks need an extra mask, gloves, hand sanitizer, etc. All children must be supervised by their adult/parent at all times. Please ensure that everyone in your party is following social distancing, sanitizng, and masking guidelines.
We
---
Sunday, September 26th, 2021 • 10:00 AM - 1:00 PM (PST)
---
Taking place virtually via secure Zoom phone and video conference, as well as in person:
BAKER BEACH, San Francisco CA [map]
---
Please register using the link above, and we'll contact you with the secure telehealth conference call phone number and video link URL. To be sure to allow us enough time to get back to you with the contact information, please register as early as possible; remember also to check your spam folder if you've not received access info. Our video and audio conferencing are HIPAA-compliant and preserve the security and confidentiality of all our participants to the highest standards possible. [Further information about Zoom meeting HIPAA compliance here.]
---
Please contact Programs Director,Shareena Clark [they/them], at shareena@ourfamily.org with any questions.
---
We are committed to ensuring our programs are accessible to all families. When you're registering, please let us know of any accommodations that would help your family participate to the fullest (e.g. ASL interpreter, translated materials, childcare providers experienced with kids with disabilities, large print materials, gluten-free food options, etc.). If registering within 48 hours of the event, please call 415-981-1960 to ensure our receipt of your request. This event – including refreshments and childcare, as applicable – is offered free for all attendees. As you are able, please help us continue offering these resources to all who need them, by making a financial donation to OFC.